Pune has emerged as the second-largest manufacturing and IT hub in India and companies are looking for ways to increase the efficiency and productivity of their employees to keep up with the competitive market.
At Empower Activity Camps, we conduct Offsite Training near Pune for employees of all varieties of industry and business. Improved interpersonal and leadership skills directly enhance productivity. It also helps employees to realize their true potential and encourages them to actively participate in problem-solving.
How can you benefit from offsite outbound training?
The offsite outbound training is a stepwise procedure to bring out the best from within you as you participate in fun activities. Empower Activity Camps has a team of experienced facilitators to conduct and manage the participants, as well as organize the entire events. The detailed debriefings conducted by the facilitators after each activity are a source of immense value for participants who can benefit from their own experiential learning and from the extensive personal work experience of the facilitator.
The Outbound Training program is conducted in an open and natural environment, away from the regular workplace to break the monotony of regular work life. Some ideal locations are countryside resorts, forest resorts, or beach resorts. The Empower Activity Camp location itself, spread over 50 acres of land, is one such ideal venue for training with a lake and hill on either side.
The benefits of Outbound Training can be listed as follows:
  Flexibility
  Effective Communication
  Self-awareness
  Diversity
  Changed outlook
Flexibility
The Outbound Training Objectives include introducing individuals to an advanced set of interpersonal skills essential for working efficiently as a team. The training helps persons  to adapt to unknown and unforeseen situations. The various activities also help in improving analysis and decision making skills.
Effective Communication
During training, tasks assigned to participants involve both individual work and team work. Interaction with other participants in the team is essential, and they need to solve problems and face challenges together to complete the assigned tasks. Effective communication plays a major role in these tasks. This helps participants to overcome shyness and gets everyone deeply involved in teamwork.
Self-awareness
Interacting in a new environment, in a mixed team with people you don't usually work with, to solve problems and do physical tasks you may have never done before, enables participants to recognise their own hidden strengths and capabilities and enhance their self-awareness. Pune has some nice locations nearby for such activities and Empower Activity Camps is one of the best as it has been created with ideal training facilities and infrastructure.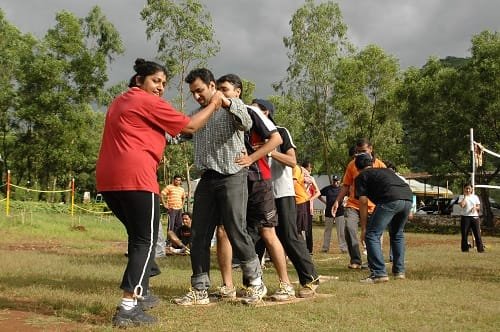 Diversity
The events conducted at Empower Camp are mostly offbeat and diverse. They require innovative and out-of-the-box thought process to come up with a solution for the given task. Participants are encouraged to think differently, and experience variety in planning and executing the objectives of assigned activities. The teams that they are assigned to work with will be mixed in composition, which will teach them how to manage diversity. It will also remind particpants to be mindful of work ethics and etiquettes.
Changed outlook
The activities inculcate a feeling of self-confidence in participants, and improve cognitive and communication skills. Participants benefit from enhanced perception and positive energy, which will then help to achieve better performance at the workplace.
Competency areas that can improve with Outbound Training
You can greatly enhance your skills through outbound training with Empower Activity Camps who are experts in conducting such programs.
The areas of focus during training can include:
Leadership Skills
It has motivation skills, giving feedback, trust-building, strategic thinking, and managerial effectiveness under its ambit.
 Team Building
It improves team bonding, team management, team execution, and employee engagement of the participants.
 Personality Development
Some indoor soft skill sessions can also be included on body language, grooming, social graces, listening skills, persuasive techniques, stress management.
Some indoor soft skill sessions can also be included in body language, grooming, social graces, listening skills, persuasive techniques, stress management.
A workforce which obtains enhanced leadership skills, self-awaress, effective communication, team bonding and support, through offsite outbound training with Empower Activity Camps, will provide the cutting edge to any organisation for achieving success and thriving in this VUCA world of human enterprise.
Check our Guest's

Feedback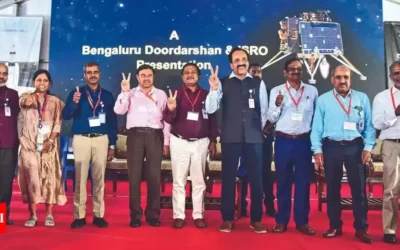 The remarkable achievement of India's Chandrayaan-3 mission stands as a shining example of the immense power of teamwork and collaboration. This resounding success echoes the harmonious efforts of countless scientists, engineers, dedicated staff, and industrial...
read more
Address: 
Camp Office: 263, Sutarwadi,
Taluka Roha, Distt Raigad, Maharashtra – 402 304.
Camp Site: Village Kudli,
14 Km Off Kolad, Taluka Roha, Distt Raigad, Maharashtra – 402 308.
Office Hours: 8 am to 8 pm