Leadership Outbound Training
Empower Activity Camps
~ Awaking Latent Talent With Leadership Outbound Training
The capability of an organisation is a lid on the performance of an enterprise, according to the Law of the Lid by John C. Maxwell. Subsequently, at present, 83% of businesses believe that it's crucial to develop leaders at all levels.
At Empower Activity Camps, we cater to this increased demand for leading personas, and hence offer our affordable, streamlined and organised leadership outbound training. Such training aims to ensure that corporates are equipped with leaders to propel their business in the right direction.
Why The Requisite For Leadership Outbound Training?
The role of a leader in a company has a significant impact on both employees and their company. In this regard, it is ideally essential to identify abilities, professional drive, and work ethic of an individual.
Consequently, we endeavour to make this journey effortless for you by –
Nurturing future leaders
Increasing productivity of the workforce
Imparting Self-leadership
Executive leadership
Group leadership and Direct leadership.
Offering leadership outbound training that is equipped with elements such as – Influencing and inspiring team members.
Result accountability.
Goal creation and strategy mapping.
Imbibing the requisite steps to awaken the latent leadership skills through –
Team evaluation and supervision.
Team programme customisation.
Add-Ons to our Leadership Outbound Training
We acknowledge the importance of training future leaders. The ambience in which this training is delivered is important too. We have top-notch facilities situated in a natural environment, far away from the distracting bustle of city life. Accommodation includes AC Cottages, Dormitories, and Swiss Cottage Tents, a large Conference Hall for discussions, and effective Safety Measures for all the adventure activities.
Our company, with a team of in-house experts, who are Senior Army Veterans, is adept at highlighting a team's leadership potential, and also bringing out the best in each team member in the organisation. This, in turn, benefits that organisation, making this individual a treasured employee and a true asset.
What our

Guests

are

Saying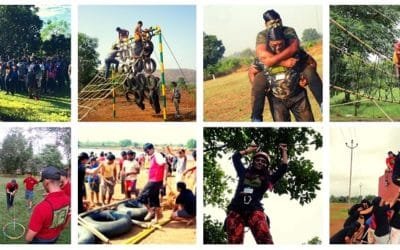 1. Focus: They focus on goals and results. 2. Ownership: They take full responsibility and ownership of their task. 3. Support: Every member supports each other and that's how high-performance teams build up. 4. Unity: Teams that remain united definitely achieve...
read more
Address: 
Camp Office: 263, Sutarwadi,
Taluka Roha, Distt Raigad, Maharashtra – 402 304.
Camp Site: Village Kudli,
14 Km Off Kolad, Taluka Roha, Distt Raigad, Maharashtra – 402 308.
Office Hours: 8 am to 8 pm