Welcome Your Team Onboard With Empower Camp's Induction Outbound Camps
A reliable on boarding process boosts productivity by over 70% and employee retention by approximately 82%. With an increased share of job openings, in recent times, retaining employees was never more critical. Subsequently, much emphasis is made on the induction process.
Taking a cue from the boosted importance of in-boarding, at Empower Camp, we offer corporates with ideal induction outbound camps. Such camps are designed to ensure that the introductory platform of the company with its employee is kept informative and interactive.
Benefits Of Induction Outbound Camps
The introduction to a company's ethics and exposure is ideally essential and plays a crucial role in accelerating an employee's professional development.
While this is an on-the-face benefit of our camps, it marks the outline of multiple benefits from both the company's and individual's end –
The induction is the first platform for employees to know about their enterprise. Such interaction ensures quality employee retention among other benefits that include –
It increases operational efficiency.

The organisation saves up on time and money.

It mitigates employee turnover.

Employee's perspective
It is essential that the newly joined employees come face-to-face with their enterprise. In this regard, our induction outbound camps extend benefits such as –
He/she feels valued and respected.

It boosts communication.

It offers required information about their company.

It provides an outline of one's professional prospect.
#EmpowerCamp – Empowering Corporates in their Team Endeavours!
At Empower Activity Camps, we believe in ensuring a smooth journey of employee's inclusion into a corporate. Keeping in mind the chances of boosted organisational performances, we offer multiple add-ons to smoothen induction. It includes –
Conference halls, Activity areas, Cottage tents, etc.
These facilities substantiate our efforts at promoting teamwork, sans the cumbersome and mundane paperwork. Our induction camps are incorporated with fun-filled activities, promoting interesting interactions that boost an organisation's productivity.
What our customers are saying
[mts_testimonial layout="carousel_testimonial_grid" category="0″ number="150″ order_by="rand" testimonials="" carousel_transition="10″ color_scheme="" show_title="1″ show_image="" show_rating="1″ show_position="1″]
[mts_testimonial layout="carousel_testimonial" category="0″ number="3″ order_by="rand" testimonials="" carousel_transition="3″ color_scheme="" show_title="1″ show_image="1″ show_rating="1″ show_position="1″]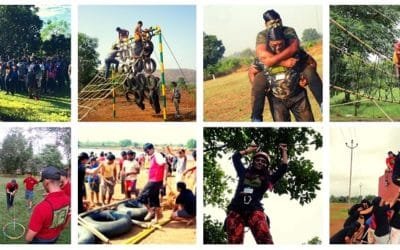 1. Focus: They focus on goals and results. 2. Ownership: They take full responsibility and ownership of their task. 3. Support: Every member supports each other and that's how high-performance teams build up. 4. Unity: Teams that remain united definitely achieve...
read more
Address: 
Camp Office: 263, Sutarwadi,
Taluka Roha, Distt Raigad, Maharashtra – 402 304.
Camp Site: Village Kudli,
14 Km Off Kolad, Taluka Roha, Distt Raigad, Maharashtra – 402 308.
Office Hours: 8 am to 8 pm