College to Corporate Programs
The curriculum in any college changes once in about 2 to 3 years whereas the corporate world is evolving on a continuous basis. New technologies, new laws, ever-changing customer requirements, economic ups and downs across the global markets, political conditions and a host of other factors continuously throw up new challenges and opportunities in the marketplace.
There is a huge void between what a fresher out of a professional college experts of the industry and what the industry/corporate world expects of him/her.
College to Corporate training at Empower effectively narrows down this gap. Students not only get learning experience of ground realities of the corporate world at large, but they are also physically, mentally and emotionally conditioned to take on challenges head-on and emerge as good leaders and team players. Programs are designed to enhance the confidence of students while they make the most important transition from college life to a corporate environment. We focus on enhancing the life skills and competencies required to ensure that their short term and long-term productivity is enhanced.
This program is catered to improving Interpersonal communication skills, leadership, time and resource management, team building, goal settings and stress management techniques of participants.
Key Learning Areas:
Helping students get a better understanding of corporate life through simulated activities followed by debriefs.

Getting a good perspective of self through self-analysis.

Practising time management, communication, planning and strategizing and host of other real-life and profession related critical skills.

Helping participants to develop teamwork.

Understanding how to set goals and manage stress.
Joining college is a new experience for youngsters, it is like entering adulthood from a controlled, protected and disciplined environment to a phase where they are expected to be themselves, take independent decisions, fend for themselves, take on new challenges, shoulder responsibility and work towards carving out a professional carrier for themselves.
Empower offers custom-built outdoor camps to hone and perfect the young minds of students. It is learning with fun and is more than just adventure. Each student picks crucial life skills from each activity that he participates in. This is achieved by what is known as "Processed Adventure".
Why Processed Adventure?
The benefits of pure adventure usually stop with the immediate thrill derived from the activity. Processed adventure is a scientific approach to use outdoor activities as a means to change perceptions and attitudes, thereby transforming mindsets.
Empower specializes in making this transition a wonderful experience.
We come up with itineraries custom-built for our College Induction camps to ensure a smooth transition of young minds into mature adults.
Why Empower?
Our highly qualified team ensures that the induction programs are designed to build a foundation for learning throughout the year.

This programme also provides the opportunity to build relationships with the classmates and school or college community.

Helps to get over homesickness- Many students are first time away from their homes and are emotionally disturbed.

Results in building self-confidence and self-esteem and surviving without parental support.

Students learn to be responsible – for their own wellbeing, studies, meeting deadlines and long-term career.

Be a good human being and responsible citizen
What our customers are saying
Super Awesome Experience! The place is neat and clean. Staff is extremely courteous. Rooms are Air Conditioned - cozy, comfortable with attached bathroom. Kitchen garden offers some organic vegetables and fresh fruits. Food is simply delicious. It's Army - Veterans managed campsite. So all the activities have been setup with visible precision and safety standards taken care of. Burma Bridge + Wall Climbing + Zip Line + Trek up the hill + Rappelling Session + Open ground fast track was super fun! Visit to the lake and dip in the water was like icing on the cake. Campsite manager is also Ex. Army and is available round the clock for any assistance. All in all, a great - satisfying, safe & secured outing for my family!
Wonderful place for outing and team building activities .
Natural beauty with warm people both managers ex Army men are very humble and co operative towards guests. All staff are best too. Food is excellent 💯. Only network is a issue if you are planning corporate event. If it's holiday destination then enjoy serene beautiful moments with detachment from screen. 🥳
Wonderful place to enhance your athletic attitude. Great place for kids as well as adults.
Had great experience of 3 day camp, adventure sports, great place for group tour closest to the nature.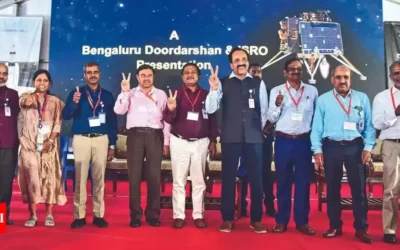 The remarkable achievement of India's Chandrayaan-3 mission stands as a shining example of the immense power of teamwork and collaboration. This resounding success echoes the harmonious efforts of countless scientists, engineers, dedicated staff, and industrial...
read more
Address: 
Camp Office: 263, Sutarwadi,
Taluka Roha, Distt Raigad, Maharashtra – 402 304.
Camp Site: Village Kudli,
14 Km Off Kolad, Taluka Roha, Distt Raigad, Maharashtra – 402 308.
Office Hours: 8 am to 8 pm