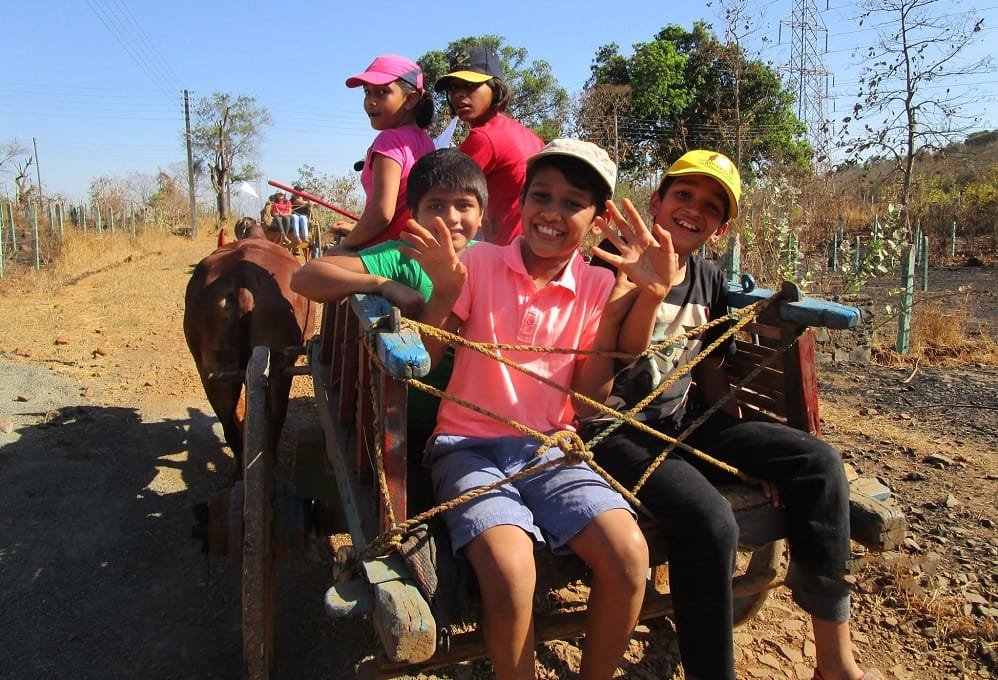 Fun & Learn Adventure 
Summer Camp 2023
It's time to get children out of four walls into nature's lap.
Empower Activity Camps is a passion-driven training and adventure resort built on a 50-acre plot of picturesque expanse of table land adjoining a hill on one side and a lake on the other.
The resort is owned and managed by retired senior Army veteran officers and Hotel industry professionals, assisted by a team of dedicated trained staff.
"Children Summer Camp" at Empower Activity Camps offers the right environment and opportunity for your child to unshackle from confined living, step into the lap of "Mother Nature" and have lots of adventure and fun, make new friends, build self-confidence, Learn decision making and leadership skills, experience nature and rural life and go back with higher self-esteem and loads of learnings!
Age 8 to 18 Years, Cost Rs 13,500- per child
White Water Rafting may be included for 14 years and above, at extra cost.
01 – 05 May &
14 – 18 May 2023
Inclusions:
Travel from Mumbai/Navi Mumbai/Pune to Campsite and Back


Meals from Lunch on Day One to Lunch on Day Five

Staying in Dormitories (AC) or Swiss Cottage Tents (Air-Cooled), all with attached washroom facilities

Boys and Girls in segregated accommodation. Girls will be under the close supervision of a lady trainer/caretaker

International Standard Safety Gear, Trained & Qualified Staff

Camp has round-the-clock security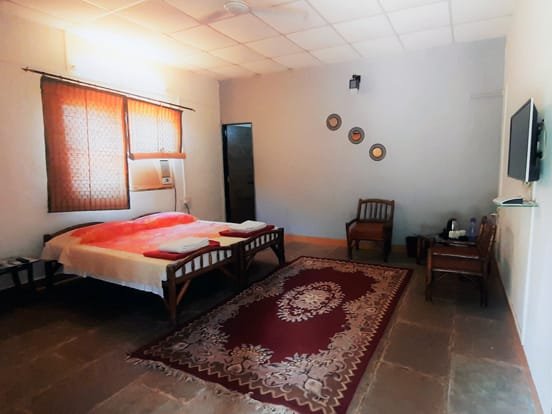 Deluxe Cottages
(AC)
Quad, Triple & Double Occupancy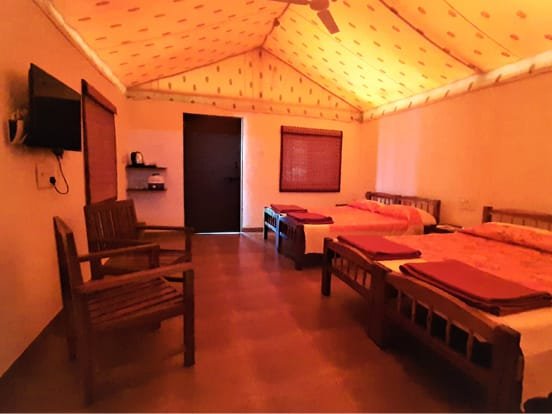 Swiss Cottage Tents
(AC/Air Cooled)
Quad, Triple & Double Occupancy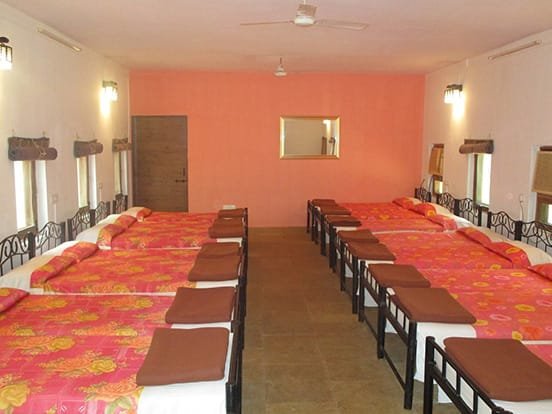 Dormitory
(Modern, AC)
Min 10 & Max 18Pax per Dom
Activities:
The aim is to enrich the overall personality of participants by giving them exposure to Natural Environment, Experiential Learning, Processed Adventure, Creativity, Practical Education in an Outdoor Environment, and some Cultural Activities.
Going by our motto 'Learn 'n Leisure' we have redefined the spelling of FUN. In Empower we spell FUN as FUNNNNNNNNNNNN….N.
Camping Starts With:
INTRODUCTIONS: Self-introduction and knowing other members of the team.

TEAM FORMULATION AND FLAG MAKING: Building brotherhood and a sense of belonging to your team and the importance of the flag.

MORNING PRAYERS: The day starts with a universal prayer.

MORNING Exercise: An entertaining way to introduce the environment and physical training.
Adventure:
Lake Crossing
Rock Climbing
Rope Games
Wall Climbing
Burma Bridge
Zip Line
White Water Rafting (Optional)
Trust Walk
Raft Building
Camp Highlights:
Village Tour
Camping in Tents
Good Food
Camp Fire
Night Trek
Certificate of Participation
Personal Attention
Navigation and Orienteering
Introduction to Drip Irrigation/ Organic farming
Life Skills:
Target Shooting
Drums & Planks
Plank Race
Treasure Hunt
Jungle Cooking
Trekking
Tug of War
Split Pipes
Bull Ring
Shuttle Relay
Confident and Self Dependent Kids at #EmpowerCamp
Safety:
Utmost care is taken to ensure the participants have a great time at the campus and no compromise is made on the safety and hygiene aspects.

Our junior trainers are trained and certified.

Equipment used for adventure is of European standards.
Propriety:
The data furnished in this document and its attachments are not expected to be disclosed outside the account and may not be duplicated, used or disclosed in whole or part for any purpose other than to evaluate this information for the conduct of this program.
Medical:
Our trained staff is fully equipped to provide First Aid facilities at all activity locations. Two local doctors (not MBBS) are available in a village 4 km away.

We have appropriate arrangements to transfer a patient to Gandhi Hospital, Kolad which is 20 km away and takes approx. 30 mins to reach.
Frequently Asked Questions
What rules and regulations are expected to be followed by campers?
All campers are expected to abide by the policy of the Empower Activity Camps while at the camp. The camp policy states that children and adults cannot bring or use weapons, drugs (other than those prescribed to them by a physician), alcohol or other alcoholic beverages or tobacco products on camp property. Violent, abusive and socially unacceptable behaviour towards fellow campers and staff is not acceptable. If, for any reason, a person's behaviour is not within our expectations Empower Activity management has the right to withdraw the camper from further activities and ask his/her guardians/ parents to take him/her back. Parents/guardians will be notified and will be expected to pick up the camper as soon as possible at their own expense. No refund of session fees will be granted in such cases.
Can campers make or receive phone calls in camp? How do I contact my child during camp?
Please note that phone calls are allowed only during 'ME TIME'. We do not allow campers to make or receive phone calls for rest of the day. If you have any concerns regarding your ward and his/ her time at camp, please feel free to contact your Empower representative prior to your camper's arrival.
What happens if my child has homesickness during camp or if there is an Emergency?
It is not unusual for children to feel homesick. Learning to be away from home and family is an important part of growing up. The staff and other campers are supportive and helpful in these situations. Generally, homesickness passes quickly as campers become involved in group activities.
Frequent talking with parents on the phone tends to increase a camper's homesickness. If homesickness continues for an extended period, the Camp Director will contact you.
You will be contacted immediately if there is an emergency concerning your child. We will attempt all methods of communication in an effort to inform you of any difficulties or illnesses. Please make sure that your child's health form indicates all telephone numbers where we can reach you. Also include the name and number of someone we can contact if we are unable to locate you. This person should be someone who is familiar with your child's health history and/or might know where to find you.
Do you provide assistance to children with Special Needs?
Our program is suitable for all children including those with special needs. Our objective is to determine the physical, adaptive, and cognitive abilities of each child. Based on this, suitable exercises, fitness activities, and strategies for teaching are implemented.
How safe is my child at the camp?
The entire camp area is well-secured with round-the-clock security. All activities are conducted under close supervision. We have a good number of trained staff staying on campus who are available in case of emergencies and also help keep watch on campers' movements within the premises. Campers are formed into small teams with a team leader on day one. This helps them bond well and create a support group within.
What type of clothing should I pack for my child?
It is essential to pack adequate quantities of comfortable, loose-fitting clothes for activities (track pants, and sweatshirts will do besides additional clothing for the to-and-fro journey to the camp. Sneakers/sports shoes, flip flops or sandals, bathroom slippers, pyjamas/nightwear, toiletries (toothbrush, toothpaste, shampoo, soap etc.), towel, underclothes, two sets of clothes for water activities (shorts & sweatshirts), sunscreen lotion, torch(optional), medications (only prescribed, if under medication). Clothing should be modest that can get dirty.
Can parents visit the camp?
Parents are advised not to visit during children's camp. They may come only for pick up or drop at the campsite if required. This is done to encourage their independence. It has been our experience that kids become more interactive and engaged when the parents are not present. The coaches are very good with the kids!
Can kids are allowed to bring electronic gadgets?
The main idea behind these Camps is to unplug the Children from the digital World. All such gadgets will be taken from them on arrival and returned at the time of departure. They may use these gadgets during their travel time.
Do campers need to carry any extra money with them?
Campers may carry a little extra pocket money for expenses while travelling, for any treats or personal expenses. Besides the occasional Mineral Water, soft drinks or some basic necessities, there isn't really much to purchase in camp. They will be well-fed.

Would you like your CHILD to:

Be More Confident?
Have High Self-Esteem?
Know their Self-Worth?
Get a Glimpse of Rural-Life?
Be Acquainted with Nature?
Learn the Value of Discipline?
Be Relieved of Stress/Tension?
Learn the Value of Time?
and much more values??
Send them to Empower Activity Camps
Fill the form to Enquire Now
Address: 
Camp Office: 263, Sutarwadi,
Taluka Roha, Distt Raigad, Maharashtra – 402 304.
Camp Site: Village Kudli,
14 Km Off Kolad, Taluka Roha, Distt Raigad, Maharashtra – 402 308.
Office Hours: 8 am to 8 pm