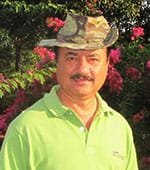 Col. Naval Kohli
24 Yrs in Army, Instructor on Training Panel of UN, 13 Yrs Senior Corporate Trainer, MD & Chief Trainer Empower Activity Camps
Col. Naval Kohli at Empower Activity Camps: Empowering Human Effectiveness Through Outbound Training Since 2006
The enticing story of a disciplined Army Veteran turned Entrepreneur Col Naval Kohli
Col. Kohli is an Army Veteran, he is the Founder of Empower Activity Camps and is the Chief Trainer & Managing Director.
As a result of his 24 years in the Army, interaction with International Armed Forces & then 13 years as a Senior Trainer, he has gained expertise in Training, Logistics, Macro & Micro planning, Coordination and execution of plans under adverse conditions.
He served in UNITED NATIONS PEACEKEEPING FORCE in Somalia and was awarded the French National Medal of Defense.
As an instructor for training officers in the Army, he developed impeccable training skills & mastered the art of applying theoretical knowledge to the execution of plans to obtain optimum results.
He has vast and rich experience in military leadership, training & first-hand knowledge in subjects related to human behaviour, such as Strategic Alignment, Leadership, Teamwork, Decision making, Trust Building, Effective Communications, Time Management, Resource Management, Conflict Management, Goal and Target setting.
He is a Lead Facilitator of Empower where above 650+ companies have been trained. In the last ten years, he has trained and Empowered a large number of executives from various companies across the corporate world & students from schools & colleges. He has facilitated Senior to middle and grass root level programmes for teams across the corporate spectrum of various industries.
He has the unique ability to facilitate outbound programmes where he brings out core issues from the participants during the activities & they are correlated to the market and workplace scenario.
He has a passion for performance & ability to propel others' thoughts & actions & is an inspiring leader and Motivational speaker.
He has a strong belief in humanity & pursuits for self-development and as a patriotic Indian with the spirit to reach out, he touches lives for a better tomorrow.
Let your Team Learn Planning and Strategising through Outbound Experiential Learning straight from Senior Army Veterans.
About Empower Activity Camps
Veteran ARMY Officer's venture Empower Activity Camps is a passion-driven company dedicated to enhancing human effectiveness through 'experiential learning' in outdoor environment.
Sprawling 50 acres of scenic, pollution-free resort located near KOLAD on the Mumbai Goa Highway, 2.5 hours drive from Vashi, Mumbai/Chandni Chowk, Pune.
Our motto is "Learn'n Leisure" and we give our heart and soul to make you experience nature to the fullest, within a safe and peaceful environment. Learn more
'Get In Touch
Let's start an Interaction
Please fill your details:
Address: 
Camp Office: 263, Sutarwadi,
Taluka Roha, Distt Raigad, Maharashtra – 402 304.
Camp Site: Village Kudli,
14 Km Off Kolad, Taluka Roha, Distt Raigad, Maharashtra – 402 308.
Office Hours: 8 am to 8 pm