Reunite with Nature and Have Fun Safely.
Out of Home Rejuvenation with Home Like Safety, Protection and Food.
Empower Activity Camps: Sprawling 50 Acres of SCENIC, POLUTION-FREE RESORT located near KOLAD on the Mumbai Goa Highway, 2.5 hours drive from Vashi, Mumbai/Chandni Chowk, Pune.
After a long lockdown, and confinement to an indoor environment, all of us look forward to being once again in open surroundings, breathing fresh air, with lots of sunlight and vast spaces to walk.
At the same time, we need to continue to ensure that we remain virus-free, with hygienic and sanitised accommodation spread apart with no crowding, with safety/security and all within a few hours of driving time in our own car.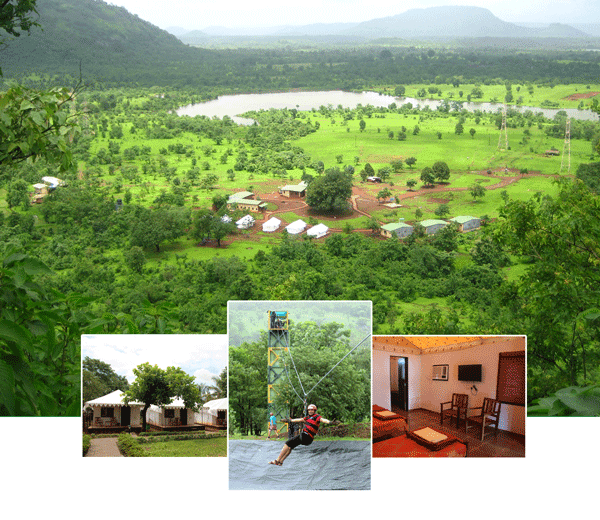 You can access all this together at one place – Empower Activity Camps.
OFFERINGS
Empower Activity Camps offers you an environment to suit all these present requirements. We, as Army Veterans, are committed to fulfilling your pressing need of moving out to a safe and protected environment.
An Ex-Servicemen's Venture – Rich in Military Values and Traditions.
A well-maintained resort, with security, personal privacy, very high standards of Hygiene, Sanitation, Food and Upkeep.
All required protocols for Covid19 are maintained.
Very comfortable Cottages, Swiss Cottage Tents and Dormitories well spread out over a wide area(details given below).
The Dining area laid out with the required social distancing norms.
50 Acres of Lush Green Open area with Lake and Hill on either side and waterfalls around during monsoons.
Ample open space for long walks and facilities for morning physical activity sessions & yoga.
Facilities for family and group bonding activities, such as Treasure Hunt, Nature Trek, and Karaoke singing.
Excellent Location for Outings after lockdown, Film Shoots, Friends and Family Getaways.
AND all this with full precautions for avoiding covid infection.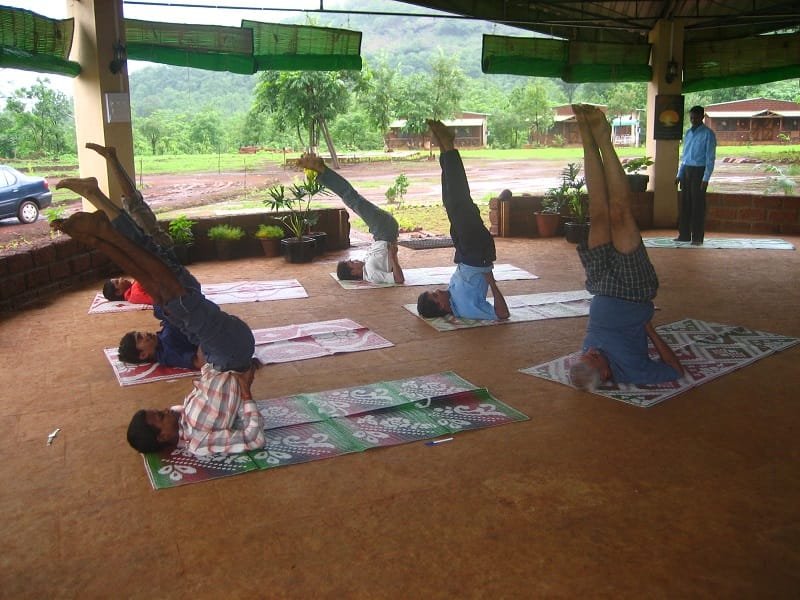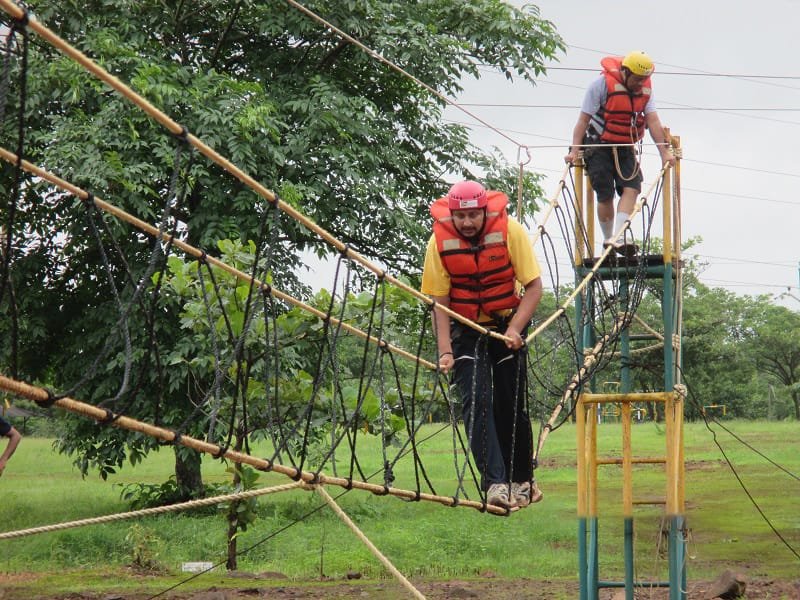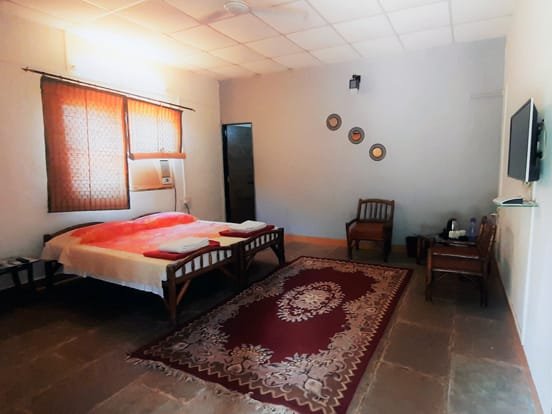 Deluxe Cottages
(AC)
Quad, Triple & Double Occupancy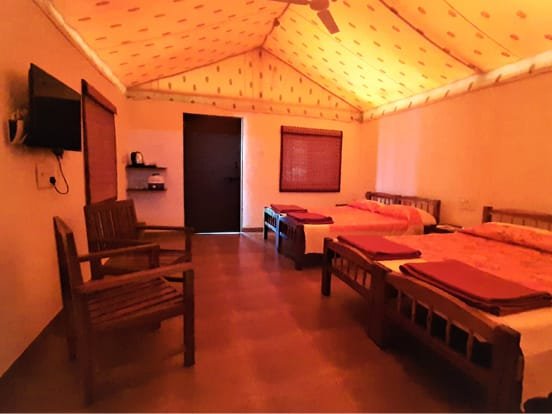 Swiss Cottage Tents
(AC/Air Cooled)
Quad, Triple & Double Occupancy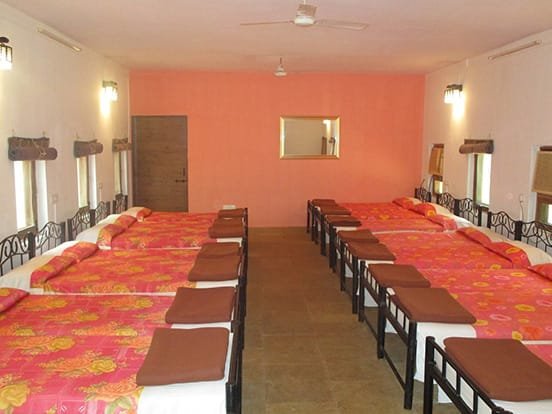 Dormitory
(Modern, AC)
Min 10 & Max 18Pax per Dom
Our 6 Cottages (AC)/8 Swiss Cottage Tents (AC) (on twin to quad sharing basis) and 12 Swiss Cottage Tents (Air-Cooled) (on quad sharing basis) have been designed for your comfort and safety.
For groups and those seeking effective team bonding, we have 2 Dormitories (Modern, AC) (20 beds each).
All accommodation has attached toilets and our impeccable standards of maintenance ensure that they are always sparkling clean. Whether you are an individual seeking privacy for yourself or with your family or someone who loves to laugh and share with a group, we have an accommodation option for you. Yes, our prices offer a total value for money.
Gazebo-The Hub
The dining area has been reorganised to keep Social Distancing in mind.
#EmpowerCamp – Break Free To Bring Out Your Best!
Waking up to the chirping of birds and breathing in fresh air abundant with oxygen is going to whet your appetite for a sumptuous breakfast. The rigors of activities and the calories consumed by the sheer fun of adventure need to be nourished with well-balanced meals.
Gazebo – The Community Dining Lounge
Our community dining lounge, Gazebo is designed to be in tune with the outdoors theme all around. A Gazebo is synonymous with rest and recuperation. Our Gazebo makes sure you are well-nourished for all the fun and learning ahead.
Besides being a Food Pavilion, the Gazebo is a happening place at the camp. It has the Reception, a Tuck Shop, a Telephone Booth, a Cold Drink counter and a First Aid Centre. The Gazebo also adorns, with pride and a little humility, the logos of our elite clientele. During inclement weather or otherwise, we have an option of conducting activities in the 40 Ft the hexagon-shaped Gazebo or a huge airconditioned conference hall.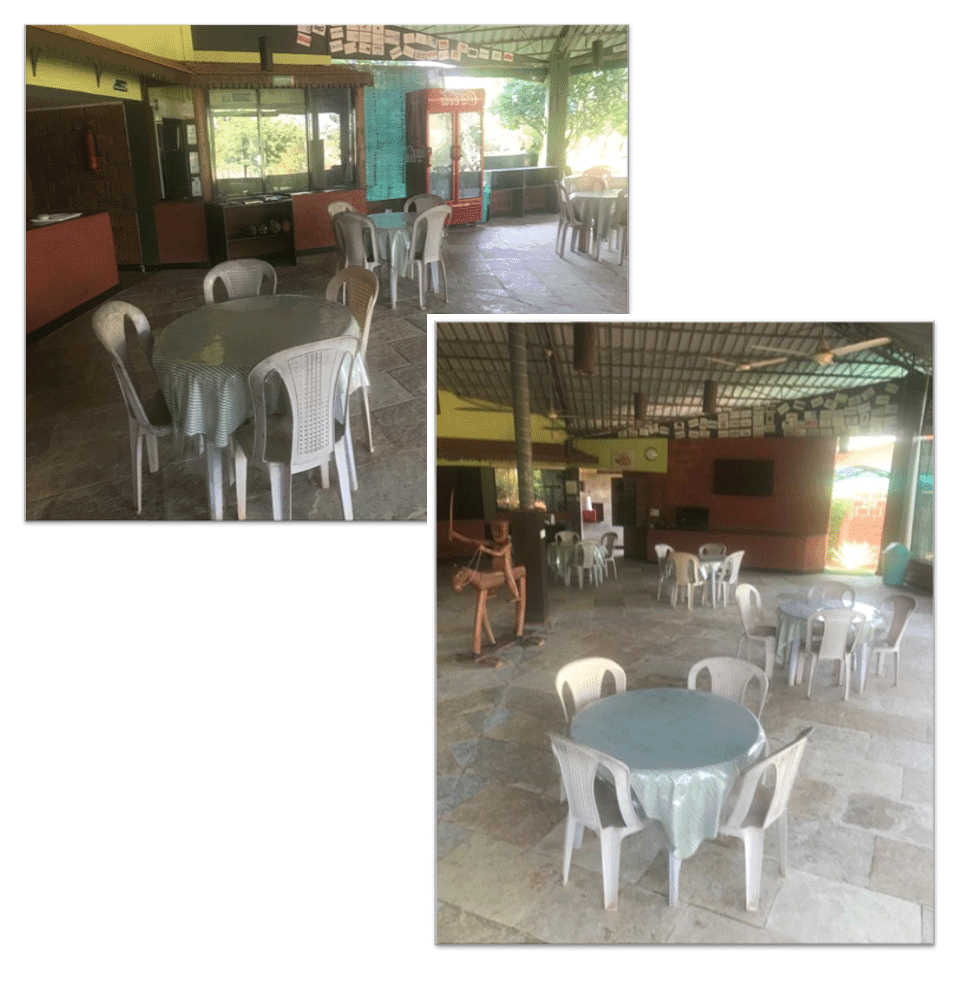 Activity Area At Empower Camp
Most of the 50 acres of vast and open landscape forms the Activity Area of Empower Camp. The place where all action takes place. The Activity Area has open grounds with sports like Foot Cricket, Dodge ball and Volleyball etc.
It also has a DCC (Dynamic Challenge Course – a very powerful Leadership and Team Building tool), Rope course, Burma Bridge, Fast Track Obstacle course, Target Shooting Range, Trust Track, wall climbing & Zip line etc. We have a number of other activities for Fun & learning.
The Activity Area or the Training Area, as you may like to call it, is the modern Gurukul. Going by the Gurukul traditions, our unique classrooms under trees or open-air shelters called Gazebos. These are the ones where we sit down after outdoor activity to share our experiences and learn through a process called the debriefing.
These areas are used by leisure lovers to chit-chat, relax or sit and have a cup of tea.
Beautiful Lake At Empower Camp
The Western end of this beautiful landscape is adorned by the lake. A vast water body where we conduct a host of water activities – both for training and for leisure. This lake is full from June onwards till Jan; thereafter we use a lake about 3.5 km away. River Kundalika, which is in close proximity, permits us another adventure sport – White Water Rafting round the year.
Camp Fire:

Relax and enjoy at the end of the day with a nice campfire and even a Bar-b-que if you so desire.
Conference Hall, Perfect Venue For Corporate Events
A new modern, air conditioned 1200 sq ft conference hall has a facility of being partitioned into one -third and two-third. It can accommodate about 180 people in theatre style and about 80 people in a cluster arrangement. We also have arrangements of seating on the floor on mattresses, called Indian baithak style seating.
Arrival And Departure Policy:
Check-in – 1400 Hours.
Check-in – 1400 Hours.
Check out – 1200 Hours. Flexible check in /check out is there depending on availability
Corporate groups- Check In- Check out will vary as per program design
Cancellation Policy
As per the booking note issued.
Child Policy
Child upto  5 years is complementary and 5-8 years is on 50 % discount ( only for stay package). 9 years and above is full rate.( production of ID card is a must to avail these discounts)
SAFETY MEASURES
At Empower Camps, the safety of participants is a prime concern and we make no compromises on that. We use high-quality safety equipment and gears. Our instructors are highly qualified and trained in various skills like mountaineering, life-saving in water activities and First Aid. We have medical facilities in close proximity and can provide a doctor at the site on special demand.
Check our Guest's

Feedback
Address: 
Camp Office: 263, Sutarwadi,
Taluka Roha, Distt Raigad, Maharashtra – 402 304.
Camp Site: Village Kudli,
14 Km Off Kolad, Taluka Roha, Distt Raigad, Maharashtra – 402 308.
Office Hours: 8 am to 8 pm